The Duchess Of Hazard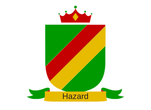 Hi, I am Theresa. I love to create art. It started with not wanting to trash a wool sweater that had some holes. I saw a display in a fancy department store with reclaimed wool mittens and scarves, I said to myself, "I can make those." I felted my moth hole sweater and made my first felt flower. I now repurposed wool sweaters into Christmas stockings, fingerless gloves, flowers, and boot cuffs. I repurpose game pieces into magnets, pins, and ornaments. Neckties into brooches and statement collars.
I love working with alcohol ink and my newest creations are ornaments, and wall/shelf art.
I live just north of Chicago, IL with my husband, and children.